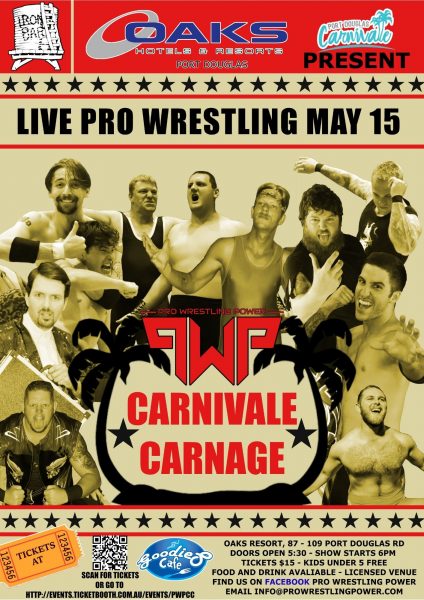 In a first for Carnivale, we have the team from Pro Wrestling Power putting on a heart thumping show full of action, thrills and spills.
Catch all the hard hitting action of Professional Wrestling as Pro wrestling Power invades Oaks resort Port Douglas for Carnivale Carnage.
Expect Body Slams, Pile Drivers and leaps of the top rope as these dominating athletes take to the ring and put on a show that will have you cheering from your seats.
Get down and show your support for local hero ,"The Prince of Port Douglas" Marshall Sampson who, in his words, is better than any of the plebs from Cairns, who are stepping on HIS turf for this event…. and who knows what's going to go down with the hometown advantage on his side.
So come along and cheer for the good guy and boo the bad guy and experience the entertainment and drama of Pro Wresting live and up in your face, for Carnivale.
Saturday May 15th Oaks Resort Ballroom 87 – 109 Port Douglas Rd
Doors open at 5:30pm, Show starts at 6pm
Tickets only $15 Kids under 5 free
Grab your Presale tickets now from Goodies Cafe or visit
Food and drink available. Licensed venue.
Proudly brought to you by Iron Bar