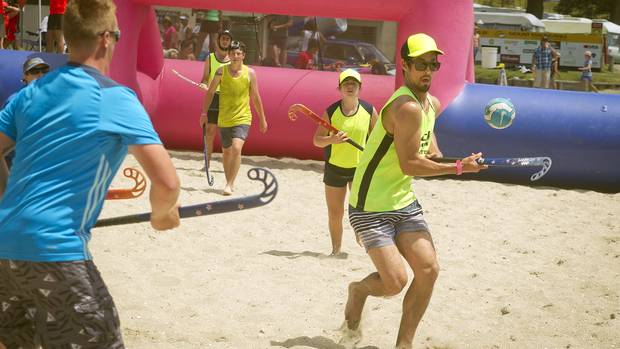 Beach hockey
"No shin pads, shoes or worries … just sun, sand and fun.
Hockey has arrived at the beach"
One of the fastest-growing sports in Europe, the Caribbean, USA and New Zealand will make its first appearance on Four Mile Beach when the spectacular Douglas Hockey Beach Championships take place over Port Douglas Carnivale 2019 – Saturday and Sunday. 9.00 am-3.00 pm
Beach hockey is a non-stop action sport. With soft sand underfoot, most of the play is aerial, providing plenty of fast-paced, skillful action.
Teams are five-a-side, with rolling substitutions, and play eight minute halves within the specially designed multi-colored inflated field with special inflated goals.
Modified hockey sticks are used and the ball is a mini football, the same size as a hand ball, which is light and can go through the sand easily.
We will be running
Juniors 13-15 yrs /16-18 yrs in the morning
Seniors 18–40 yrs and Masters 40+ yrs in the afternoon
Teams can be mixed. and no prior field hockey or beach hockey experience is required.
Form a team or just turn up on the day and register to play!