Grab your family and friends and head to the Family Beach Day for a full day of fun and frolic by the sea. It's all about the fun of the beach and the stunning surrounds of the magnificent 4 mile beach.
Get creative and enter our Sand Sculpting Competition as a family and have fun while competing for a host of amazing prizes. Join in the fun of beach activities, dancing, music fun and color.
Quicksilver have donated the prizes for the Family Beach day Sand sculpting competition:
1st Prize: Quicksilver Outer Reef Cruise – family pass (2 adults and 2 children) Value $772
2nd Prize: Quicksilver Outer Reef Cruise – double pass, value $568
3rd Prize; Wavedancer Low Isles Cruise – double pass. Value $452.
So bring a towel, a spade, some shade and a smile for family beach day at the beautiful 4 mile.
Food trucks, Community Market and so much more…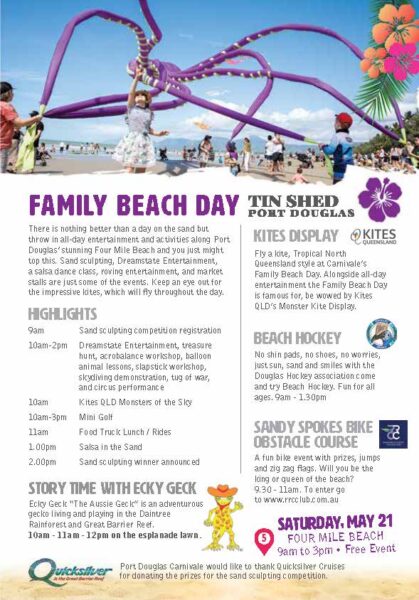 Windswell will also be running a special program.
Saturday is try SURFSUP
Jarod from Surfing Queensland will be on hand to train up 8-16 year olds onto the SUP with the launch of the first Come and Try SURF SUP program.
8am start northern end.
The Family Beach Beach Day
Supported by: